The Plan
Challenge - Chronic Shortage of Athletic Fields
In San Francisco, youth sports are entirely constrained by a lack of access to athletic fields. A 2004 study found San Francisco would need to add 35 soccer fields and 30 baseball/softball fields just to meet demand. For many years, local school teams, youth leagues, and after-school programs have accepted as many kids as they can place on fields. Once a league's allotment of fields is full, registration is closed and kids are turned away.
Since 2006, Recreation and Parks and the nonprofit City Fields Foundation have worked to address this challenge by renovating select City athletic fields with synthetic turf and field lights. The goal is to increase playable hours on existing sports fields so every San Francisco child has a place to enjoy sports after school.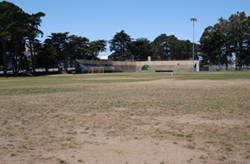 A rutted, dirt "field"
Challenge - Antiquated Permit/Reservation System
Before City Fields' partnership with Recreation and Parks, San Francisco's field permit and reservation system was riddled with inefficiencies and information gaps. There were no complete lists of fields or field users, no standard form for field requests or system for tracking requests or permits, no standard fees, and no "official" seasons.
The haphazard, handwritten record system meant that requests were frequently lost, fields were double-booked or left empty and allocated at the last minute. Many players and coaches shared a general sense that the system wasn't fair and favored people with an "in" with staff.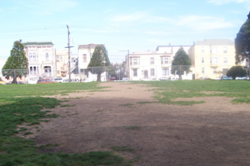 No place for neighborhood play