About City Fields
City Fields Foundation
City Fields Foundation (CFF) was established in 2006 by brothers Bob, Bill and John Fisher, who grew up playing sports in San Francisco parks and wanted to make sure other city kids enjoyed the same opportunities. Inspired by a 2004 study that found San Francisco would need to add 35 soccer fields and 30 baseball/softball fields in order to meet the demand for play and exercise space in the city, the brothers decided to address San Francisco's chronic shortage of accessible sports fields. At that time, many of the existing fields were in poor condition—the grass turf had been damaged by intense use and was riddled with gopher holes that presented safety concerns. Fields were often closed for darkness, rain and to allow for turf re-growth. Even when they were open, an antiquated reservation system made it difficult for the majority of San Franciscans to get access to the play fields.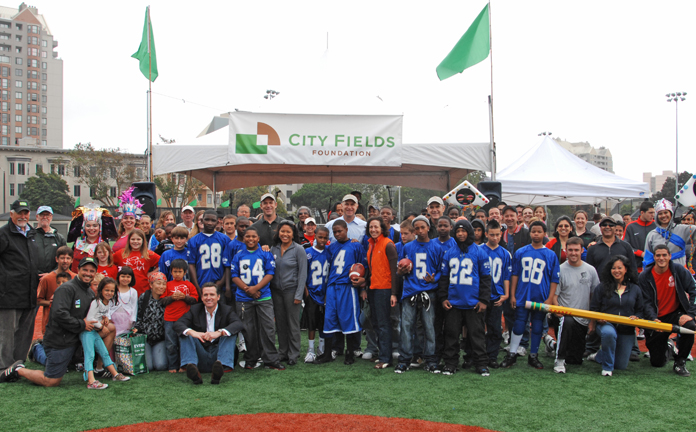 The City Fields Team, partners and friends at the Grand Opening Celebration for the Kimbell Playfield (September 2010) Photo credit: Michael Emery
The Playfields Initiative
The Playfields Initiative is a $52 million public-private partnership between CFF and the San Francisco Recreation & Parks Department. With the goal of providing high-quality playing fields for all San Francisco kids, the partnership renovated and expanded access to nine facilities—a total of 21 fields—from 2006-2015.. These facilities included Minnie and Lovie Recreation Center, Mission Playground, Kimbell Playground, Crocker Amazon Playground, South Sunset Playground, Franklin Square Playground, Silver Terrace Playground, Garfield Square and Beach Chalet Athletic Fields at Golden Gate Park.
The Initiative was funded with $22 million from the City of San Francisco and $30 million raised by CFF from 120 donors. This highly successful project has given San Francisco children and adults increased access to high-quality facilities with state-of-the-art lighting, synthetic turf, family friendly amenities and 90,000 hours of additional playtime each year. The Playfields Initiative also modernized and revamped the City's permit and reservation system to ensure that fields are being distributed equitably among leagues, teams, public, independent schools, genders, ages and sports.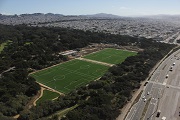 The Playfields Initiative Team
Bob Fisher is a City Fields Foundation trustee and serves on the board of directors of Gap Inc. A dedicated environmentalist, Bob also serves on the board of Conservation International, co-founded the Pisces Foundation and is president of the board of the San Francisco Museum of Modern Art. In 2009, Bob was appointed to the Strategic Growth Council for the State of California. He was formerly a trustee of the Golden Gate National Parks Conservancy and is now on the honorary board of trustees of the Natural Resources Defense Council.
Bill Fisher is a City Fields Foundation trustee and serves on the board of directors of Gap Inc. He is the principal of Manzanita Capital, a private equity investment firm, and is on the boards of several European investment companies. Bill also serves as the vice chair of the Exploratorium Board in San Francisco, and the Stanford University Graduate School of Business Advisory Council.
John Fisher is a City Fields Foundation trustee, president of Pisces Inc., and co-founder of Sansome Partners. In addition to serving on a number of corporate boards, he is board chair of the KIPP Foundation, and co-chair of the Charter School Growth Fund. John helped found and serves on the board of Silicon Schools Fund and also is a special advisor to the Doris and Donald Fisher Fund.
Susan Hirsch is the director of the City Fields Foundation and CEO of Hirsch and Associates, LLC, a philanthropic advisory firm. A former competitive tennis, lacrosse, squash and field hockey player, Susan raised two soccer-playing children in San Francisco and has long been involved in advocating on behalf of kids and families. She serves on the board of the San Francisco School Alliance.
Phil Ginsburg is the general manager of the San Francisco Recreation & Parks Department, which administers more than 220 parks, playgrounds, and open spaces, covering more than 4,100 acres. Since 2009, Phil has navigated historic budget challenges and fought to protect the Department's core mission of providing enriching recreational opportunities and clean, safe, fun parks for San Francisco's residents and visitors to enjoy. In 2012, the City's parks were named the top park system by the Trust for Public Land. Phil has more than a decade of experience in San Francisco city government, having served as deputy city attorney, head of the City's Department of Human Resources, and as chief of staff to former Mayor Gavin Newsom. He was awarded San Francisco's Public Managerial Excellence Award in 2003, and America SCORES honored him with its Legacy Award in 2013.
Dan Mauer is the project manager for the San Francisco Recreation & Parks Capital Improvement Division where he is directly involved in renovating and improving the City's park system. When he isn't sitting behind his office computer or meeting contractors, he can usually be found chasing his three boys around the baseball or soccer fields. Dan is actively involved with children in various forms of athletics and mentoring programs.